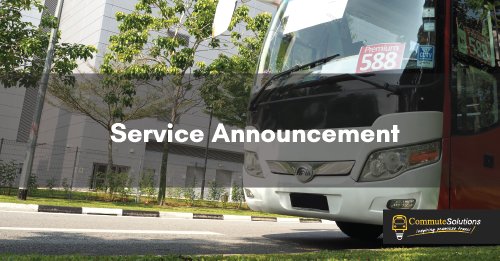 Commute Solutions Premium Bus Services will resume from 2 June
May 21st, 2020 | NEWS
As we are nearing the end of the circuit breaker period, we're getting ready to be back to serve you. We're happy to announce that Premium Bus Service (PBS) routes are now available for booking!
Please note that PBS routes will resume operation from 2nd June 2020 subject to a minimum number of capacity reached. In order to facilitate the government's efforts in contact tracing and to increase the chances of the route resuming, we encourage all to book a ride in advance on the ShareTransport App.
Book in 3 simple steps:
Step 1: Launch the ShareTransport App
Step 2: Select your PBS Service
Step 3: Make a booking on your selected dates or buy a Monthly Pass
Please make your booking for June monthly and daily bus passes from now till 29th May 2020.
You will be informed via email and App notification on 30th May 2020 before 3pm if your selected bus route has reached the minimum capacity to commence.
In the case where your route does not meet the minimum capacity to operate, your purchased passes will be automatically converted accordingly as follows:
Monthly Pass - converted to an equal value voucher for use until 31 December 2020
Daily Pass - converted to credits for use until 31 August 2020
Can I still board without making a booking?
Yes, you can still board with your EZ-Link/Flashpay/Cash. However, seats will be subjected to availability. Priority will be given to passengers who had booked in advance. We strongly recommend that you book in advance as you will be able to get first-hand information on the route status (such as, availability and if the route is in operation).
Measures Taken By Commute Solutions And Our Bus Operators
To ensure ALL our passengers have a smooth and safe journey, ShareTransport has also stepped up and implemented the following measures:
All seating capacity in the buses are reduced in order for passengers to maintain a safe distance from others throughout the journey

All drivers are required to take their temperature before the start of their trips to ensure they are well

Our drivers are also reminded to clean and sanitize the seats and high contact points e.g. holding bars after every trip

Every bus will be equipped with hand sanitizers for passengers use
Be A Socially Responsible Passenger
As we adopt to the new normal and comply with government regulations and advisories, we seek your cooperation on the following:
ALL Passengers are required to wear a mask and maintain good hygiene throughout the bus journey

Refrain from talking loudly to one another or on your phone

Please avoid commuting if you are feeling unwell

Please help us to maintain a clean and comfortable journey for everyone onboard by not littering or eating in the bus.
We look forward to serving you in the coming weeks.