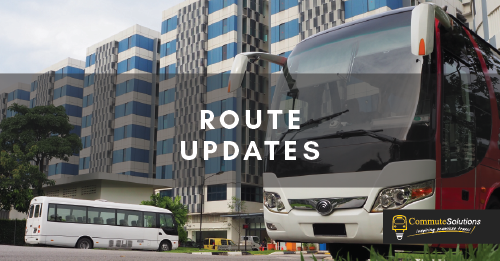 Premium Bus Services Update as at 16 Nov 2020
August 03rd, 2020 | NEWS
Updated as at 16 Nov 2020
Commute-Solutions have 2 Premium Bus Services in operation based on the latest forecast of demand.
These current routes services commuters from home to office districts in downtown, Shenton Way & Temasek Boulevard. As there are still routes that have yet to start, we encouraging existing passengers to indicate your interest through the ShareTransport App by making a pre-booking. Our Team is constantly assessing the demand to ensure that as many routes get started as possible.
We advise all our existing passengers to constantly stay updated on the premium bus service status by checking through the ShareTransport App.
Please see the table below on the latest services which we've resumed.
Updated as at 16 November 2020
| | | |
| --- | --- | --- |
| Route Code | From | To |
| PBS 761 (AM) Last Bus | Ang Mo Kio Ave 2 | Temasek Blvd |
| | | |
| PBS 559 (AM) Last Bus | Yishun Ave 11 | Temasek Blvd |
More routes are available on ShareTransport
You may wish to check out the route listings under "Active" by downloading ShareTransport, our bus pooling platform. Alternatively, click here to access our web app for more details.
When are more routes available?
As we continue to move towards the new normal, we are constantly engaging with our passengers to better understand new commuting patterns due to flexible work arrangements such as telecommuting, staggered hours, etc.
While we are consolidating these results to shape up our services, we seek your patience and understanding as we progressively roll out more services in the coming weeks. We hope that you'll continue to keep in touch with us to get the latest updates on new premium bus service rollouts.
In the meantime, we have opened up bookings from 17 August onwards. Bookings are a direct way to lets us know which routes and more importantly, which pick-up and drop-off stops are in demand. Make sure your existing credits are applied before checkout!
We are working on it to be back as soon as we can to resume our services as your preferred mode of transport.
What happens to my existing credits on ShareTransport?
ShareTransport is continuously monitoring the situation and will notify you via email, SMS, and In-App notification on the status of your existing credits by end August. If you need further assistance please visit our 24-hour help center to get support or clarifications.
Do continue to keep in touch with us and stay connected by following our Facebook Page, ShareTransport.
We'll see you soon.